Appleby Jewellers
Address: The Westbury Mall, 2 Grafton Street, Dublin 2, D02 EH52, Ireland
Hours: 9:30am–6pm
Phone: +353 1 679 9572
Appleby Jewellers offers contemporary Irish jewellery for all price ranges. There range includes diamond rings, earrings, necklaces, bracelets and pendants. They design and created their own jewellery on their Dublin workshop, including bespoke diamond engagement rings.
College House Jewellers
44 Nassau Street, Dublin 2,
Tel: +353 1 6777597, Fax: +353 1 6772075,
web: www.claddaghceltic.com
Specialises in Celtic jewelry including History of Ireland jewelry.
Fitzgibbon Jewellers
Unit 9, Rathfarnham S.C., Rathfarnham, Dublin 14,
MAP
Hunt Jewellers
Unit 09, St. Stephens Green shopping centre, Dublin 2, Ireland
MAP –
Tel: +353 1 4785336,
web: www.huntjewellers.ie
Celtic Irish jewelry including Irish wedding rings, Celtic bands and crosses.
Opening hours of 10.00 – 18.00 (GMT) Monday to Saturday
Goldbar Jewellery
,
Level 3, The Square Tallaght, Dublin 24, Ireland,
MAP
John Brereton Jewellers
Address: 108 Capel St, Rotunda, Dublin, Ireland
Hours store is open: 9am–5:30pm
Phone: +353 1 872 6759
Dublin jewellers established in 1916. Specialists in diamond rings, engagement rings, & wedding rings. Free delivery across Ireland. Free delivery worldwide for orders over €500.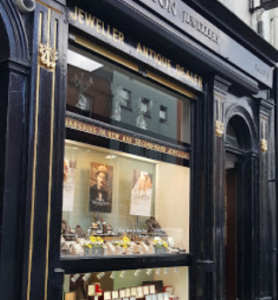 The Jewellers
14 Lucan Shopping Centre, Lucan, Co. Dublin, Ireland, MAP
Tiffany & Co.
88-95 Grafton Street, Dublin, Ireland
Jewelry store in Dublin, Republic of Ireland
Phone: +353 1 605 6722
Luxury American jewellery retailer known for fine jewellery, china & silver, plus wedding registry.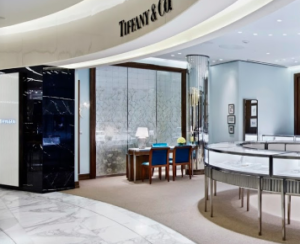 Village Jewellers
Finglas Village, Dublin 11, Ireland, MAP
Weir & sons
96-99 Grafton Street, 1-3 Wicklow Street, Dublin 2, Ireland
Tel: + 353 1 677 9678 Fax: + 353 1 677 7739
https://weirandsons.ie
With stores in Grafton Street and Dundrum, in the heart of Dublin, are Official retailers of Patek Phillipe and Rolex. Retailers of fine diamonds and other fine jewellery. Free Irish delivery when you spend €70 and free international shipping on orders over €100.