Jewellery Manufacturers Italy
Centoundiciaerre S.p.A.
Via delle Piscine,30/32Pieve al Toppo
52040 Civitella della Chiana - Arezzo - Italy
Tel. (0575) 410455/498040
Fax (0575) 498539
info111ar@libero.it
info@centoundiciaerre-spa.com
http://www.centoundiciaerre-spa.com
Large offer of fine gold jewellery in 14kt and 18kt, produces chains, bracelets earrings
 and pendants. All the jewellery is hand made.

FRATELLI DANZA s.r.l. - VERAGIOIA
Viale Romita 3, 70129 - Bari, Italy
tel: +39 0805650207
Fax: +39-0805650207
Range of handmade fashion necklaces, bracelets, earrings and rings.
MISIS
via dell'Edilizia 58, 36100, Vicenza, Italy
tel: +39 0444961334
Fax: +39 0444961334
http://www.misis.it/
Designers & manufacturers of high quality silver jewelry enriched by hard stones and zircons, including rings, bracelets, necklaces and earrings
SAMADHI ITALIAN JEWELLERY
via Marconi 123, 02041 - Casperia, Italy
tel: +39-076563871
Fax: +39-076563871
http://www.samadhigioielli.it/
fine handmade Italian jewellery from silver, precious and semi-precious stones. One-of-a-kind exclusive jewels, including rings, earrings, pendants, bracelets, necklaces, cufflinks & brooches.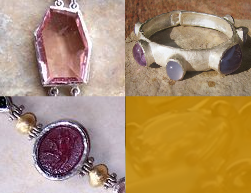 Sorry, no content matched your criteria.