Featured stores:
Ascione
Angiporto Galleria Umberto I 19, Naples
http://www.ascione.it
Jewelry store selling Mediterranean colored corals.
ARSENIO TAFURI GIOIELLI srl
101, V. Mercanti, 84121, Salerno
tel: +39 089 226613
web site: www.arseniotafurigioielli.it
Located in the heart of the historic centre of Salerno, creates gemstones, unique and exclusive models.
Jewellry Products sold:
Silver; articles with coral; gift shop; jewelry
Activities:
Gemological laboratories; jewellery workshops
Materials: Gold
Brands stocked at the store:
BULOVA, CHIRICO, DAVITE & DELUCCHI, DD JEWELRY, LOCMAN, LORENZ, MARIA CRISTINA STERLING and UNOAERRE.
GIOIELLERIA JULIANO
di DOMENICO JULIANO E FIGLIO srl
45, V. Mercanti, 84121, Salerno (SA), Italy
tel: +39 089 229847
fax: +39 089 252624
web site: www.gioielleriadomenicojuliano.com
jewellery Juliano is arranged on two floors: Street level store and the basement, where you can also visit the medieval archaeological finds, you will find a wide selection of silverware and curated and porcelain. Each jewelry with precious stones. There is also the presence of an internal laboratory which is able to meet the most common needs of customers.
Jewellery Category: Jewelry stores and jewelers-retail; Watches
Products: high jewelry; silverware; diamonds; jewels; Jewelry with diamonds; Jewelry with precious stones; Topaz jewelry; yellow gold jewelry; Silver jewelry; Platinum jewelry; watches
Brands stocked: PANDORA, PHILIP WATCH, ROSE, SECTOR and TISSOT.
GIOIELLERIA LIVRIERI
32/A, V. Carmine, 84125, Salerno
tel: +39 089 226271
official web site: www.gioiellerialivrieri.it
The Livrieri jewellery store specializes in women's and mens watches from all the major brands on the market, many articles suitable for every occasion. Besides the classic jewellery, you will be able to evaluate a wide range of silverware.
Categories: Jewelry stores and jewelers-retail
Products:
high jewelry; rings; engagement rings; gold rings; silverware; sacred items; pendants; pendants in gold; Pearl pendants; frames; Silver frame; Pearl Jewelry; Earrings; earrings with diamonds; earrings with pearls; golden earrings; watches; wrist watches; pearls
Brands stocked:
CITIZEN, EMPORIO ARMANI, LIU-JO, LORENZ, ORIENT, OSA and RULERS.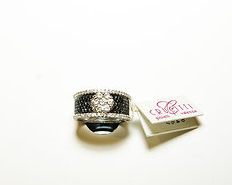 GIOIELLERIA LO SMERALDO
71/73, C. Vitt. Eman., 84123, Salerno, Italy
tel: +39 089 237663
fax: +39 089 237663
web site: www.eorogioielli.it
Jewelry stores and jewelers-retail; Watches
Products:
chronometers; diamonds; faiths; coral jewelry; Horn and bone jewelry; Jewelry with diamonds; jewellery with pearls; Jewelry with precious stones; watches; wrist watches; pearls; emeralds
Brands stocked:
Other brands: BUCCELLATI, BULGARS, CHANTECLER, DODO, GUCCI, MOMO DESIGN, PAUL PICOT, POMELLATO and TIFFANY CO.
Gioielleria Margherita
Via Posidonia 341, 84129, SALERNO (SA), Italy
Tel: +39 089 711072
Fax: +39 089711072
website: www.gioielleriamargherita.it
Founded in 1973 in Salerno, this store sells exclusive jewellery. Over the years the store has expanded its range with new articles, fashion and trend of watches, silverware and jewellery. Jewellery, exclusive to Salerno, are companies Salvini, Alfieri & St. John, Bliss, Kiara, Annamaria Cammilli and much more refined and sophisticated jewllery items, like Montblanc pens. They also perform repair of watches, jewellery creations and settings.
At the point of sale, you will find a wide variety of watches fashionistas but also style and classical one likes: Guess, CK watches, Dolce and Gabbana, Armani, Breil, Alviero Martini and Chronotech.
GIOIELLERIA MELONE
10, V. Fam. De Mattia, 84078, Vallo Della Lucania (SA)
tel: +39 0974 2657
official web site: http://www.gioielleriamelone.com
In Vallo della Lucania, Melon jewelry invokes a wide clientele, the store is slit in 2 parts, the sales department of watches and silver and gift sections for wedding lists, ensuring customers the availability, quality and a good service.
Products on offer
rings; silverware; articles of jewellery; bomboniere; frames; Silver frame; jewels; initials of jewelry; marbled; watches; second-hand watches; Collectible watches; Silver panels; Silver coffee services
Other activities
jewellery; engraved in gold; Silver engravings; Gold; horology
Brands stocked ny the store:
ALFIERI & ST.JOHN, ANNAMARIA CAMMILLI, CHRONOTECH, CITIZEN, FOSSIL, GUESS, MORELLATO, PACIOTTI JEWELS, PASCUAL.